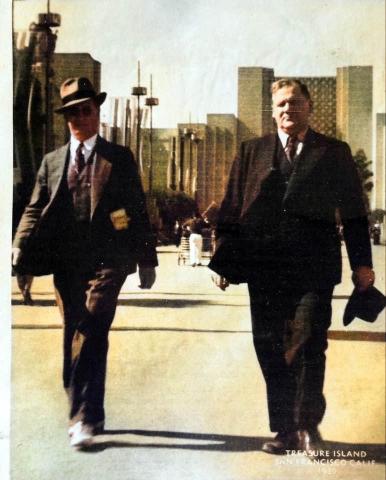 Carl Rahkonen
Aapo Similä (1891-1972) composer, conductor, singer, actor and kantele player, toured the United States for six months from the beginning of November 1938 to the end of April 1939. He visited all areas of the country where Finns had settled, playing more than a hundred concerts, and was well received both by Finns and Americans. He had done three previous tours to Europe in the 1930s, but none were as long or extensive as his American tour.
Similä was born in Oulu and studied at the Helsinki Music Institute from 1910 to 1913. He toured Finland in 1913 with a theater troupe led by Pasi Jääskeläinen, a well-known entertainer of the time. Jääskeläinen had developed his own model of kantele and founded a workshop to build them in his hometown of Haapavesi. He also was one of the first entertainers to tour the United States in 1902, playing his kanteles and singing humorous couplet songs. The theater troupe also included fellow composer Martti Nisonen, who would later immigrate to the United States to teach music at Suomi opisto (Suomi College, today Finlandia University), in Hancock, Michigan. Similä obviously developed a close friendship with Nisonen, since he was cast as the lead character in Nisonen's operetta Aavikon lapsia [Children of the Desert] a "cowboy opera" set in the American West.
According to his memoirs, Similä began playing kantele in 1924 after hearing Olli Suolahti, who was just back from an international tour, playing kantele in a restaurant. For the rest of his life the kantele became Similä's main accompanying instrument, probably because it was well suited for the many folk-song arrangements he made. He published a book of kantele folk song arrangements in 1927, which showed an older style kantele on the cover, but the arrangements were so advanced that they were most likely meant to be played on a modern kantele with a tuning machine, the kind invented by Paul Salminen. In his concert tours in the 1930s, the photographs show Similä playing just that kind of kantele.
Traveling to America, Similä crossed the Atlantic on the Queen Mary. He spent his earliest days in New York visiting the substantial Finnish American community in Harlem, which in the 1930s had several Finnish halls, temperance societies, churches, shops and Finnish language newspapers. His first concert and welcome party was held November 8, 1938 at the Työväentalo, [Workers House] more commonly called "The Fifth Avenue Hall," the center of cultural life in Finnish Harlem. His program was similar to those of his European tours earlier in the 1930s. In addition to singing and playing the kantele, for some pieces he was joined by members of the local dance orchestra and men's chorus ("Miten minä pääsin Amerikaan?" Nov. 8, 1938).
For the remainder of November, Similä performed a concert almost every day in nearby New England, which had several significant Finnish communities, especially in the towns of Fitchburg, Quincy, Maynard, Gardner, Worcester, and Rockport. He also played concerts in many towns that did not have large Finnish communities. These concerts were undoubtedly organized by Finns, but the audiences were most likely American. He played not only in Finnish halls, but also in school auditoriums, civic halls, YMCA halls and similar venues. He also performed on local radio stations if given an opportunity. With his ability to sing in various languages including English, he could appeal to all his audiences.
He returned to New York City and on December 3rd,1938 performed a recital at Carnegie Hall in their Little Chamber Hall, today the Weill Recital Hall, an intimate venue with fine acoustics that was perfect for voice and kantele. Similä performed several of his own songs and arrangements, including folk songs from Estonia, Czechoslovakia, and Hungary. He also performed two arrangements done by his brother Martti Similä, as well as songs by some of most well-known composers of Finland, Oskar Merikanto, Emil Kauppi, Leevi Madetoja, Ilmari Hannikainen, Toivo Kuula, Selim Palmgren and Jean Sibelius. In some pieces, he was accompanied by flute, clarinet, and strings, and by chorus during the final pieces, his "Three Soldiers' Songs."
Shortly after his Carnegie Hall appearance, Similä took the train from New York to Warren, Ohio and toured several of the Finnish communities near Lake Erie, performing in Warren, Conneaut, Fairport Harbor, Cleveland and Ashtabula, Ohio, and also in Detroit, Michigan. He then traveled to Chicago, Illinois, where he spent Christmas at the home of Frank Nelson, founder of the Sibelius Club of Chicago. He appreciated the cuisine of his guest, listened to works of Sibelius from his fine record collection, and enjoyed hearing opera and excellent orchestras on the radio. He spent the New Year's holiday in nearby Waukegan, Illinois, where he was impressed that people from all walks of life celebrated New Year's Eve together.
Similä spent the month of January 1939 playing concerts in Minnesota, beginning in Cokato on January 4th, Minneapolis on 7th, and in Duluth on the 8th. Just as in Massachusetts, he played almost every day in a different town, most of them in the largely Finnish American area around Duluth in Northeastern Minnesota. Many of the Minnesota concerts and perhaps others were organized by Carl H. Salminen, who had connections with Finnish American cultural organizations throughout the United States and published the Päivälehti [Daily paper] of Duluth. On January 17th, Similä played a school concert in Mt. Iron, Minnesota and sang songs in English, which had been skillfully translated into English by his Finnish American composer friend Martti Nisonen.
In February Similä toured the Upper Peninsula of Michigan, starting in Ironwood at the Kaleva Hall, and continuing on to Rock, Chatham, Newberry, Rudyard, Negunee, Ishpeming, Crystal Falls, Baraga, South Range, and Winfield. He arrived in Hancock on February 21st and stayed with his friend Martti Nisonen and family. They had a snowstorm, as was likely on the Keweenaw Peninsula in February. On February 28th, they held a Kalevala Day celebration. This included a greeting in Kalevala style with words and music by Martti Nisonen, first recited by his wife Martta, then sung by the choir led by the composer. Aapo Similä gave a seminar on Finnish folk songs, with examples sung and played on the kantele. They ended with the choir singing the Finlandia Hymn with Aapo as soloist, which was so well received it had to be repeated. The celebration ended with the national anthems of the United States and Finland.
In March, Similä toured the Pacific Northwest performing concerts in Seattle, Aberdeen, Ilwaco, Winlock, and Naselle, Washington, and in Astoria and Portland, Oregon. In April, he toured California and played fourteen concerts organized by Onni Syrjäniemi, including Berkeley, Fort Bragg, San Francisco and Los Angeles. His concert in Fort Bragg was attended by Hannes Saari, a well-known Finnish American singer, choir director and recording artist. When the program ended, the audience wanted more, so Aapo said, "Hannes Saari lives here and he's the most popular singer among Finnish Americans. [He] was born in the old county in the same city as me so I will ask him to sing with me two encore songs." The two performers from Oulu sang "Laivan kannella" by Pasi Jääskeläinen and "Onnelliset" by Oskar Merikanto.
From California Similä took the train for three days to travel to Chicago by April 8th. He then returned to Minnesota for his final concerts in Crosby, Menahga, New York Mills, Tamarack and Duluth. He may also have performed again in Minneapolis, since Marjorie Edgar, a Minnesota collector and singer of Finnish folk songs, wrote on May 1st that she enjoyed hearing him there. One of his concerts was broadcast on a Duluth radio station (Edgar letter, May 1, 1939). On his return journey through New York City, he visited the 1939 World's Fair and saw the Finnish Pavilion but did not perform there since the opportunity had not been arranged in advance.
Aapo Similä was one of the first kantele artists to tour the United States and the first one to have performed at Carnegie Hall. He stayed in some of the best hotels, but more frequently in the homes of Finnish Americans, both wealthy and middle class. Unlike his European concerts, he told jokes and used "Finglish," following the traditions of Finnish American performers. The Helsinki University Choir (Ylioppilaskunnan laulajat or YL choir) toured America in 1938 and the Finlandia Chorus of Helsinki, a select men's group, in 1939. Similä followed a similar route around the country, except he had more performances than either chorus since he played in smaller and more intimate venues, getting to know his audiences personally. His performances bridged the gap between classical and folk music and were appreciated by everyone. He had a highly successful American tour.
Carl Rahkonen, Ph.D
Music Librarian / Professor
Indiana University of Pennsylvania