Main photo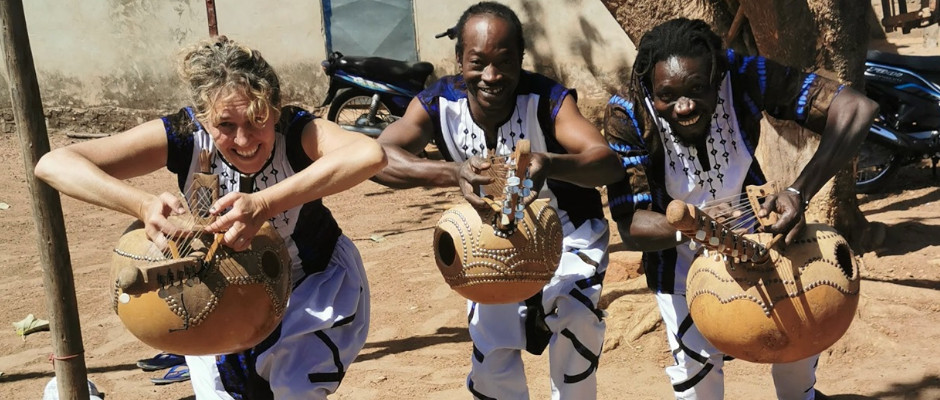 Introduction
Delado is a music and dance group from Burkina Faso and Finland. Delado brings together traditional master musicians Amadou Benjamin Ouattara Mounjeni and Dabou Dembele (with 900 years old Griot tradition heritage) from Burkina Faso and dancer/songwriter Sanna Karlsson-Sutisna from Finland.
Delado is working not only on the uniqueness of African traditions but also on a very special mixture: old unusual culture from Africa mixed with Bali. The beautiful African TIEFO music is very rarely heard and it resembles the Balinese music in a special way and since only the traditional music is left from the Tiefo culture, it gave Karlsson-Sutisna the freedom and inspiration to create a new spiritual dance uniting Balinese and African traditions.
Karlsson-Sutisna has over 28 years of experience in Balinese dance, pioneering it to Finland and before that European, African, Afro-cuban dances and European dance forms graduated in combining dance with visual art (Master degree in the art Academy of Finland / also Berlin 1989 & 1999). Amadou Benjamin Ouattara Mounjeni and Dabou Dembele have been working as musicians professionally over 20 years. Delado can also give workshops of African, Western and Balinese Art traditions.
Amadou Benjamin Ouattara Mounjeni (Burkina Faso)
Dabou Dembele (Burkina Faso)
Sanna Karlsson-Sutisna (Finland)
Technical information
The length of the performance and the technical needs should be discussed case-by-case.