Main photo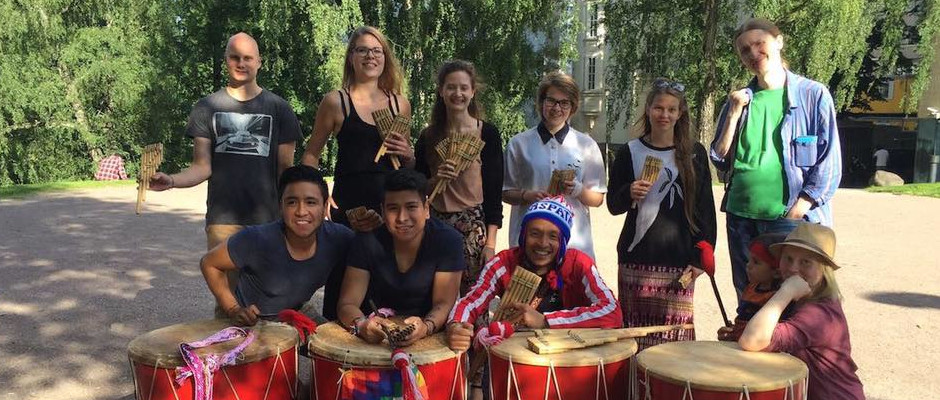 Introduction
Sikuri Finland is a group of siku flutes founded in Finland, which performs various traditional music styles on Andean wind instruments. Sikuri Finland regularly meets for rehearsals in Helsinki, performs on the streets and at festivals and organizes workshops. Sikuri Finland is actively connected with other chicory groups in the world. Sikuri means both musical style and musician, this tradition is part of the Andean's more than 5,000-year-old and especially pre-Columbian cultural history.
The flute, which is played in pairs, is still a social and unifying element in festivities and important events in mountain areas, it is played in groups of up to 150 musicians, in the "tropas" and there are also separate dancers in the procession.
Musician designer and cultural promoter Cesar Aguilar founded the group in 2007. It also includes a variety of ensembles, some learning from scratch and some focusing on performances. Ikuri music is suitable for noisy parties as well as for a meditative quiet situation or for nature walks. An exhibition, workshops, playing lessons, ceremonies or other activities related to the themes of the Andean region can be organized with the Sikuris.
Cesar Aguilar (Peru) - group leader
As well as other musicians. The group is open to everyone and can be joined by contacting via the Facebook group. For performances, you can contact Silpa Karjunen-Aguilar (contact information below).
Technical Information
Sikuri Finland plays acoustically and at least with a 4 peoples group. E.g. they give samples of different wind instruments and music styles. The performance can last from many hours to only a few songs. Because of the group's nature, it's best that there is the possibility for moving around.