Zorbas Band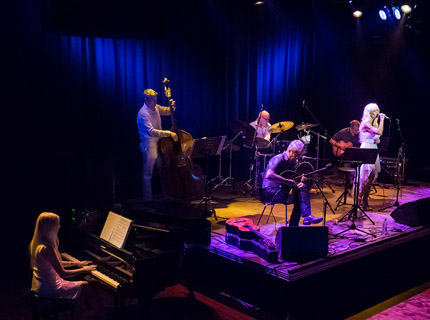 Home Town
Vantaa
Introduction
The group plays Greek popular music in a wide range, from smirneika and rebetika to modern laika and endechno styles. Band plays also its own material. They don't play tourist music or sirtaki and they don't dress in funny costumes. Their philosophy is to give, in the style of Glykeria and Haris Alexiou, a deeper perspective of the exceptionally diverse Greek music culture.
Maria - vocals and violin
Victoria Vatanskaja - piano
Juha Levo - bass
Petri Lampinen - guitar
Nikos Vlachos - drums, vocals
Kari Vannemaa - buzuq, flute, ud, guitar

www.duozorbas.com
Technical Information
The content of the show can be customized according to the event. The group assures that they won't run out of songs. With a smaller line up they can perform acoustically, but with bigger line up they need a PA system. Zorbas Band has its own equipment for smaller and larger venues.
Contact
Maria
tel. +358 (0)44 357 6558
Nikos Vlachos
tel. +358 (0)40 0977 407