Sininen Tuli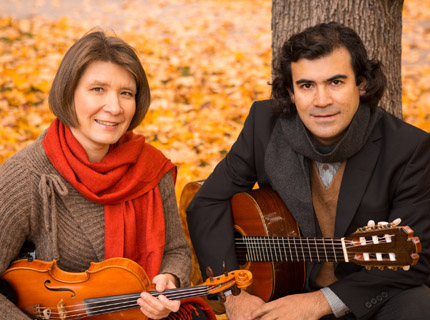 Home Town
Helsinki/Tammela
Introduction
Sininen Tuli consists of Finnish singer, violinist and pianist Sanna Mansikkaniemi and Peruvian guitarist, multi-instrumentalist and musicologist Camilo Pajuelo Valdez. Together they build a musical bridge between Latin America and Finland, offering a wide spectrum of musical styles from folk music to tango, from thrill of rhythms to mood pieces.

The duo's innovative instrument combinations include violin, guitar, piano, organ, saw, charango, the Andean flutes and percussion. The programme has beautiful and touching songs in many different languages, Finnish, Spanish, Portuguese, English and Swedish among others.

Sininen Tuli has made numerous appearances with various programme in southern Finland's concert halls, restaurants, festivals, churches, private events, etc. The duo has participated in various projects with other musicians and choirs.

Description of programme:
Caminos DEL TANGO - Ways of the Tango
The programme includes new and old tango from Finland and Argentina. Also represented are unfamiliar tango countries such as Italy and Brazil. Programme also includes introduction to Habanera and other music from the source of tango.

Calendario SONORO DE LOS ANDES - ANDEAN musical CALENDAR
Music related to the cycle of the year and spiral concept of time from the Peruvian mountain region. Dance rhythms such as wayno, waylias and cachua and devout hymns lead the listener in the middle of the Andean colorful celebrations with the Christian holidays and the traditional farming celebrations merging into one another.

Misas CRIOLLAS - LATIN AMERICAN FOLK MUSIC FAIR
This is a joint project with the choirs and vocal ensembles. In addition to Sininen Tuli project also involves Grupo Ondú. The repertoire consists of Latin American folk music based and Misa Criolla themed compositions.

Caminito ALEGRE - HAPPY PATH
A Narrative concert for the whole family. The programme has children's songs, games, nursery rhymes and stories from Latin America and Finland.

OTHER
Proramme also includes songs composed by women from Latin America, Creole music from Peru's coastal region, the music from Brazil, Venezuela and Chile, and Christmas carols from around the world. In "Songs of love and other demons - Canciones del amor y otros Demonios" Sininen Tuli plays with Grupo Ondú.
Sanna Mansikkaniemi - vocals, violin, piano, harmonium, saw
Camilo Pajuelo Valdez (Peru) - guitar, charango, vocals, quena

www.sininentuli.com
www.camilopajuelo.com
Facebook
Technical Information
Sininen Tuli can perform acoustically or with amplification. The group can provide the PA-system if needed.
Contact
Sanna Mansikkaniemi
tel. 040 51 53 254
Camilo Pajuelo Valdez
tel. 041 48 67 197