Peali Mitra Indian Fusion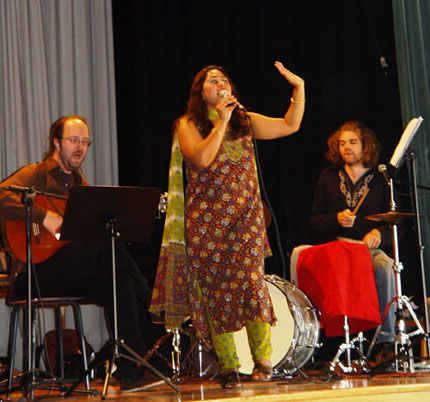 Home Town
Helsinki
Introduction
Singer Peali Mitra and her band takes their listeners to musical journey to India, where you'll hear both traditional Indian music and Bollywood hit melodies. The music is spiced with elements from flamenco, Arabian and African music and digital effects, "loops". The performance is often also very visual, when dancer Rumpa Podder joins the ensemble. The band can tell about the songs both in English and in Finnish. The band can customize a performance for either adult audience or for children/youth audience.
Peali Mitra (India) - vocals
Ramon Maronier (Holland) - guitar
Kai Olander - flute, saxophone
Hannu Risku - percussions
Rumpa Podder (India) - dance
Technical Information
The band needs amplification.
Contact
Peali Mitra
tel. +358 (0) 40 181 0434