Morasta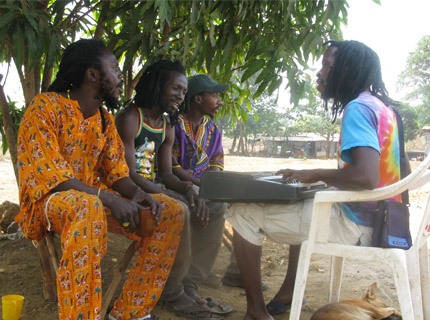 Home Town
Västanfjärd
Introduction
The Morasta Crew from Waterloo Sierra Leone has made reggae music since 2007. Two leading vocalists, Morasta Sesay & Sima Banta, bass guitarist Joseph Williams, drummer Kabbah Ruben, rhythm guitarist Jeffrey Nallo, back up singers Judah Conteh, Fatmata Sesay, Mohamed N'Gaodjia, Bernard Kamara, Zegede Boyoh, congas Idrisa Kamara, Edison NN.
Morasta arrived in Finland in May 2012. He has so far worked only with temporary music partners and wants to work with Jamaican singer, music maker Damion Scott, also living on the island of Kimito.
Morasta has performed in various constellations also at big events in Sierra Leone. In Helsinki Morasta has performed with Sierra Leone Refugee All Star Band at Savoy. Performed with his own songs with playback on Caisa stage on Helsinki Day. Also performed with friends in a public event against racism, arranged by Safra ry. On Kimito Island Morasta has performed with tales and music in day care centre, schools, organizational meetings, public events.

Morasta Sesay (Sierra Leone) - Vocals
+group
Technical Information
A performance can last from up 1 hour. PA system should be discussed case-by-case, acoustic performances are possible.
Contact
Morasta Sesay
Västerillovägen 1
25830 Västanfjärd
tel. +358 (0)44 99 41 582