Mohamed Bangoura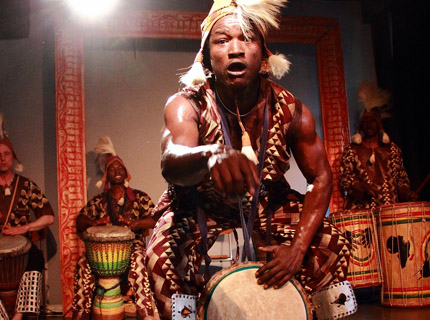 Home Town
Vantaa
Introduction
Mohamed is a skilled and experienced Guinean musician and drum teacher, who was born amidst West African rhythms in a family of musicians. His main instrument is djembé, but he is also skilled dundun, krin, bolon, gongoma and balafon player. Taught by Mohamed Kante, Mohamed Bangoura is also a singer.

Mohamed's special area of ​​expertise is the West African folk music. He has appeared in a number of groups in Guinea, Sierra Leone , Senegal, Gambia and Finland. His first group was a Guinean music-focused Etual de Kanya , in which he played drums for several years.
After this, he played during 2007-2011 in Badeya Cultural Dance Group, group played percussion music and dances based on West Africa 's rich cultural traditions. While in Finland, he has played in a variety of groups, including the well-established Dounya Fanyi Fan.
He teaches dance and drum intensive courses , as well as giving private lessons for children and adults individually and in cooperation with Kassandra Art Centre, AfroSusi & LuovaSointu, Papson Sylla, Sorel Conté, Sory Ibrahima Conté and Alhassane Keitan.
Mohamed is interested in the drummer's work , as well as a performing musician, solo , duo and ensemble member of the music teacher and accompanist for dance classes . In addition, he addresses the African instruments such as drums, film, foil and tune-ups, balafon and Bolon repairs. He talks about Susun , mandinkon and Fulan in addition to French, English and Finnish . Drum Hours for the organization he has used 6 dundun djembe and drums , as well as balafon , gongoma and Bolon.
Mohamed is looking forward working as a performing artist and percussion and dance teacher. He can also repair and tune African instruments. He speaks Susu, Mandinko and Fula as well as English, French and Finnish. For drum workshops he has 6 djembes, balafon, gongoma and bolon.
Mohamed has performed in various festivals, such as Sun Festival , anti-racism Days, Helsinki African Street Carnival , World Village Festival , Maailma Päev in Tallinn, Estonia , as well as many other events , as well as clubs and in various cultural spaces.

Mohamed Bangoura (Guinea) – vocals, djembé, dundun, krin, bolon, gongoma and balafon

Youtube
Dounya Fanyi Fan (band)
Technical information
The length of the performance and the technical needs should be discussed case-by-case. In small venues an acustic performance is possible.
Contact
Mohamed Bangoura
tel. +358 (0)46 5698150