Mama Africa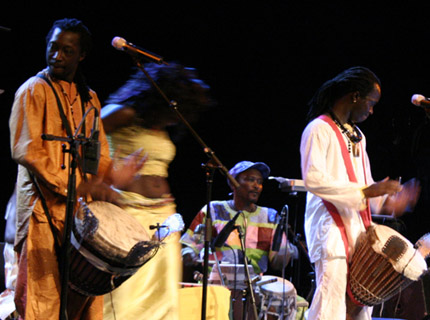 Home Town
Turku
Introduction
Mama Africa is a band performing traditional West-African drumming music and dance. It is founded around 1990´s in Dakar, the capital of Senegal by childhood friends. Mama Africa´s every member who have moved outside Senegal have there after created a new local Mama Africa in their new homeland. Today´s Mama Africa is known in Senegal, Germany, France, Belgium, Finland, Tunis, the United States and Japan. It´s members are educated by the local Senegalese drumming-masters and many professional Ballet´s.

Finland´s Mama Africa was first founded in 1997 in Turku and that time by Boucar Gueye. Today Mama Africa has five of it´s original members living Finland. Mama Africa is well known in Turku, Jyväskylä and Helsinki where it´s members live. Mama Africa Finland also performs with several other professional musicians and dancers in the field. Mama Africa has performed in several different festivals and other happenings around Finland. The most famous set ordered from Mama Africa is a workshop of drumming and / or dancing combined with a performance. Mama Africa have been performing for example in Turku at Night of Arts, Seikkisrock and DBTL; in Jyväskylä at Africafest and in Helsinki at Maailma kylässä, Night of Arts, Kontufest and Punajuuri Block Party.
Boucar Gaye (Senegal) - djembe, sabar, tama
Momar Diop (Senegal) - djembe, sabar, tama
Petra Hongel - djembe, dundun, balafon, dance
Gustav Store - djembe, sabar, tama, kora

www.mamaafrica.fi
Facebook
Youtube 1 | 2
Technical Information
Group is flexible with technical requirements.
Contact
Momar Diop
Tel. +358 (0) 44 305 20 05