Kids café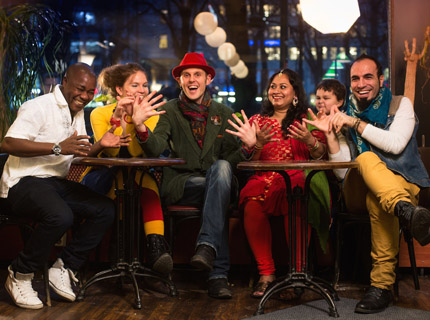 Home Town
Helsinki
Introduction
Kids' Café is children's music group featuring five experienced musicians and pedagogs. Kids' Café's musicians invite speakers of different languages in the audience share the words of their language, which are learned together by singing songs.
"We want to give the children pride in their own language by building music from different languages and giving them opportunity to hear the whole group singing in their mother tongue."
Concert languages are Finnish, persian, English, Swahili, Pashtu, Kurdish and Turkish.

Peali Mitra (India) - vocals
Tero Pajunen - guitar, vocals
Senni Valtonen - kantele, vocals, flutes
Menard Mponda (Tanzania) - percussions, vocals
Marouf Majidi (Iran) - vocals, tanbour
Technical Information
Duration of the set 30-45 min, an acoustic performance is also possible.
Contact
Marouf Majidi
tel. +358 40 123 9366