Hamana Diara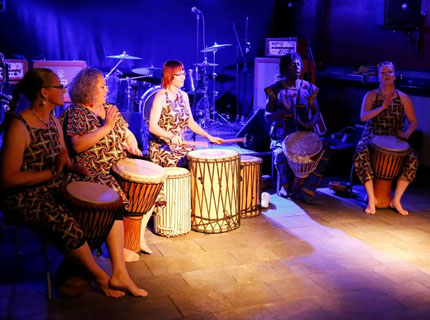 Home Town
Helsinki
Introduction
Hamara Diara brings great female energy, drumsolos from Guinean master and joyful dances and rhythm to the stage. Formed in february 2013, group mostly performs Guinean malinké rhytms and dances with occasional influences from Ghana, Senegal, Gambia and Burkina Faso.
Group's artistic director Abdoulaye Condé is respected doundoun master and djembefola trained in Guinean apprenticeship. He masters traditional malinké and susu rhythms and is also proficient with krin. Abdoulaye has featured on many albums and he played in Finnish groups such as Wonuwali, Mande Maja Band and Stilimba. He is also member of respected Lanyi group.
Group leader Sointu Condé is one of the most respected African dance teachers in Finland. She has been member of many groups like Njara, Bonsu Drums & The Sisters, Wonuwali, Mande Maja Band and her own groups Djansa and Musoo Kunda. Condé also founded first company specialized in African drumming and dance - AfroSusi&LuovaSointu.
Other members of the group are long time aficionados of African dance and music and include members from Bonsu Drums, Djansa, Musoo Kunda and Wonuwali.
Abdoulaye "Ablou" Condè (Guinea) - solodjembe, doundoun, krin, vocals, artistic director
Sointu "khalima" Condè - dance, djembe, doundoun, vocals, group leader
Tanja Pyy - doundoun, djembe
Tuula Cissokho - djembe, dance, vocals
Lisbet "Lyz" Ikonen - djembe, dance, backing vocals, kastanjet
Laura "Luru" Juntunen - dance, backing vocals
Laura "Laku" Merenvainio - dance, backing vocals

guest artists
Kishan Gaine (Nepal) - saranki
Soungalo "Mercaeu" Sanou (Burkina Faso) - djembe

www.afrosusi.com/esitykset
Technical Information
15-60min performance includes dancing, playing and singing. Performance can be tailored to the occasion and can also include a drum/dance workshop. Group can perform acustic, in large venues vocals require amplification.
Contact
Sointu Condé
Tel. +358 (0)50 49 14 508