Freilach mit Kneidlach - Gefilte Fidl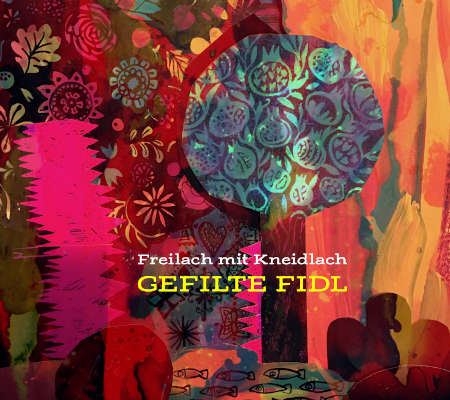 This group's exuberant, down-to-earth sound is based on the traditional klezmer style of Eastern European Jews, which the band members have studied from archive recordings and notations since it was established in 1998. Freilach mit Kneidlach has collaborated with klezmer-revival legend Alan Bern (Brave Old World, The Other Europeans, The Klezmatics) as well as younger-generation klezmer talents such as Ilya Shneyveys and Sasha Lurje.
Freilach mit Kneidlach's debut album, Klezmorim fun Helsinki (2008), earned an enthusiastic reception in the media. On its new album, the group's sound is more mature and sensitive, closer to both chamber music and traditional rootsiness. The harmony of the violin, oboe, mandolin, accordion and bass is enriched by instruments such as the cimbalom and G violone (or great bass viol) as well as songs in the Yiddish, Russian and Hungarian languages. The album's Yiddish-language name, Gefilte fidl ('stuffed violin') pays tribute to the culinary delights of Ashkenazi Jewish culture – in this case the traditional dish known as gefilte fish ('stuffed fish').
''Love and respect for the whole spectrum of Yiddish culture is audible every
moment of this beautifully recorded CD.'' – Alan Bern
'Freilach mit Kneidlach gör riktigt snygga tolkningar och visar att klezmerlåtar kan vara starka och intensiva trots hyfsat låg volym. Här och där förekommer som omväxling solon på en högst oväntad oboe, också det mycket fint, och som avslutning en vacker duo på nyckelharpa och violone, gambafamiljens motsvarighet till kontrabas.' Rasmus Klockljung - Lira 2/2020
Freilach mit Kneidlach:
Benjamin Hirschovits – violin
Laura Airola – violin, mandolin, nyckelharpa
Daniel Shaul – cimbalom, oboe, vocals
Eva Jacob – accordion, vocals
Ilkka Heinonen – double bass, G-violone, vocals
Also available from