Banda Reggae Papagaio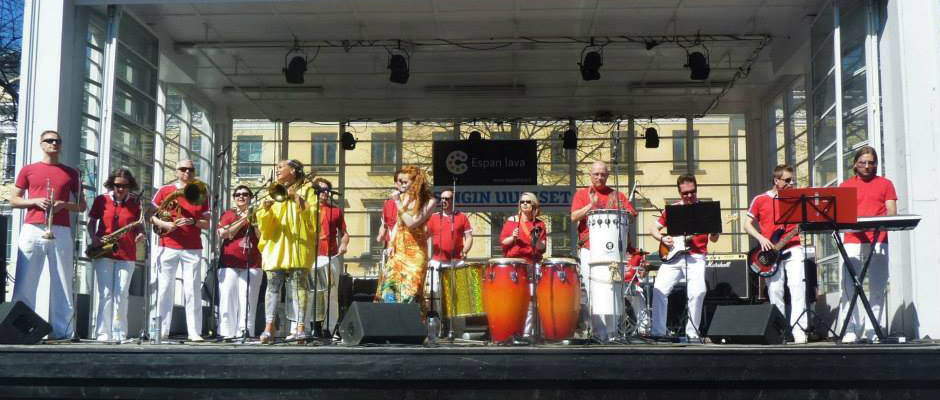 Introduction
Banda Reggae Papagaio, formed in 1998, is part of samba school Império do Papagaio, based in Helsinki. Their laid-back music comes from Bahia, northeast Brazil, and it is based on samba, reggae and African dance rhythms. Massive drum and percussion set creates their primordial swingue, spiced with elements from modern pop music. Banda Reggae Papagaio celebrated their 10th anniversary e.g. by releasing their second album "Seremonia Popular".

Samba-reggae comes from Brazil, Salvador (the capital of Bahia county). It is slower and rhythmically more versatile than Rio's (carnival) samba. Samba-reggae can be mixed with elements from other music styles, such as candomblé, forró, axé, maracatú and pop music. Banda Reggae Papagaio attempts to play all these Brazilian music styles in a way that is as authentic as possible, and thereby bring Salvador's rich rhythms also to Finland.

Banda Reggae Papagaio (BRP) was born in 1998 in Nyköping, Sweden. Couple of Finnish musicians found each other in the samba festival and decided to form a band. First there was only vocalist Ira Multaharju and bateria, lead by Kari Winqvist. The band's musical direction was found bit by bit, and later melodic instruments, electric guitar, bass and keyboards, were added.

At the moment BRP is the only group performing this kind of samba reggae in Finland. During its whole career, the band has made an honor to the finest Afro-Brazilian rhythms and melodies by rearranging old samba reggae songs.

BRP has performed in many kinds of events from small village parties and private parties to club and festival shows. Depending on the venue, the performances might have included also dancers.
Technical Information
The basic set lasts about one hour. Longer sets are possible as well. The band needs normally amplification, but can perform also acoustically. Ask more from the contact person!